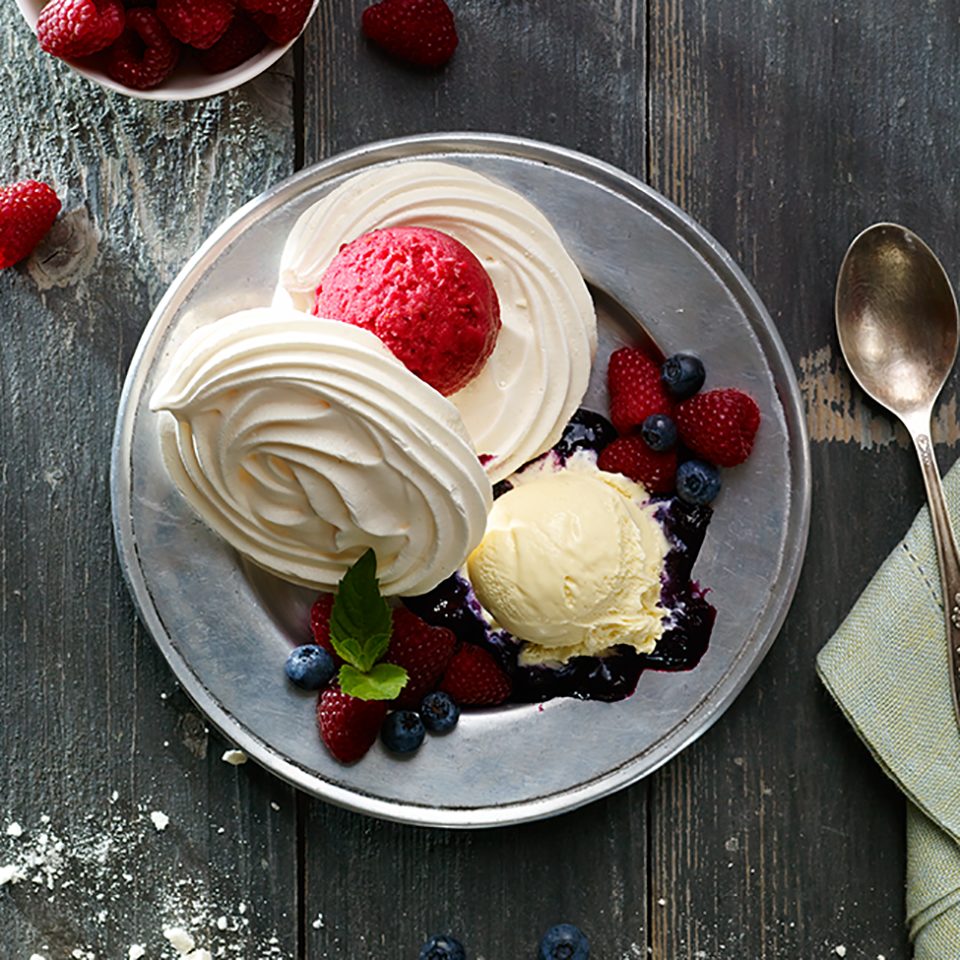 Meringue fantasy
Grycan Raspberry Sorbet and Grycan Vanilla ice cream with berry sauce and meringue.
Ingredients:
Grycan Raspberry Sorbet
Grycan Vanilla ice cream
Seasonal fruit – raspberries and blueberries
4 round meringues
3 egg whites
200g icing sugar
1 tbsp white wine vinegar
1 tbsp potato flour or potato starch
A pinch of salt
Preparation method:
Combine the berries with water, sugar and lemon juice and bring to a boil in a small pot.
Add the potato flour and lemon zest and gently stir the sauce.
Cook for about 4 minutes and pour the sauce into a small jug.
Arrange the meringues and one scoop of vanilla ice cream and raspberry sorbet on a plate.
Add the seasonal fruit and berry sauce. You can serve it in the jug or pour it over the dessert before serving.
Recipe for home-made meringues:
Preheat the oven to 180°C.
Beat the egg whites with salt into a firm foam. When the foam turns white, start adding sugar gradually while beating the whites. Finally, when the egg whites turn firm, add the vinegar and potato flour while still beating the whites. When properly beaten, the foam should be firm and slightly shiny.
Put the beaten whites on parchment paper, dividing it into four circles.
Put the meringues in the preheated oven and immediately turn the temperature down to 100°C. Bake for one hour.
After an hour, turn off the oven, open the door and let the meringues cool down.
Bon appétit!