News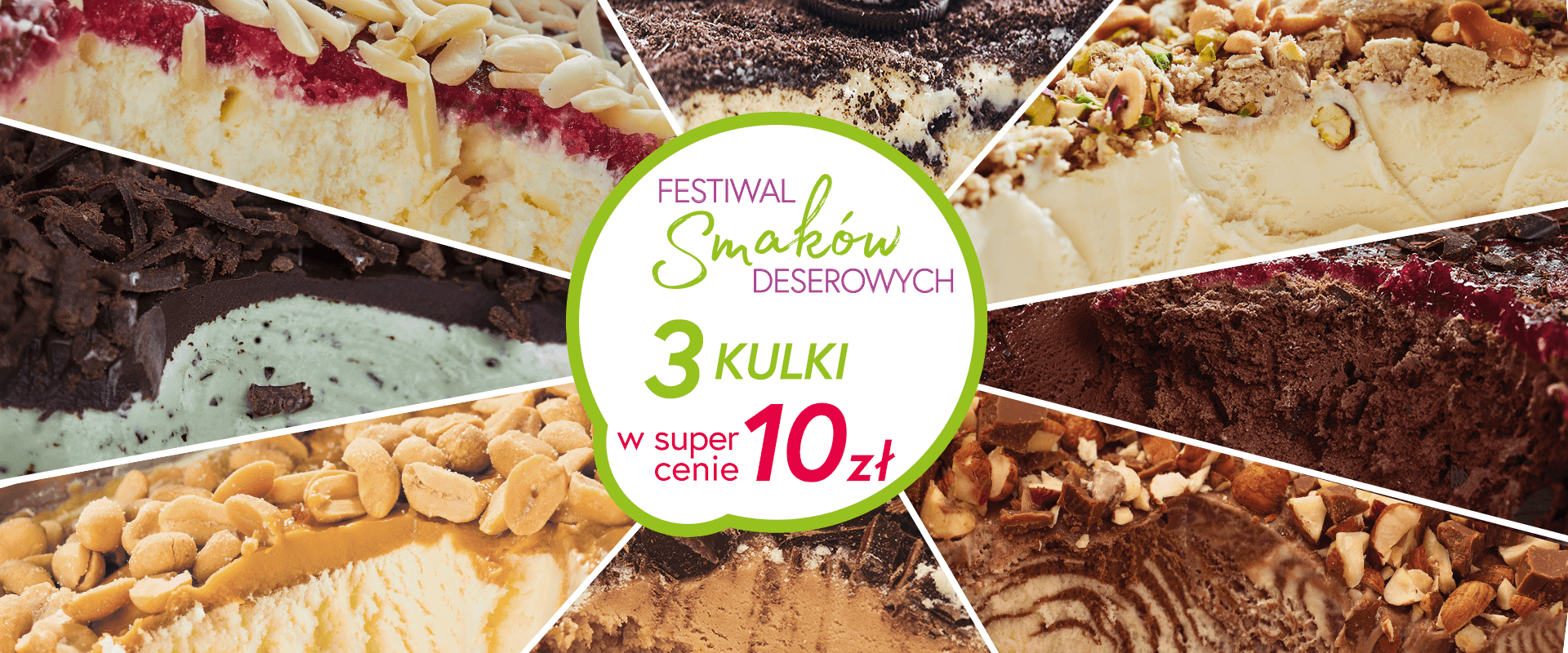 Festiwal Smaków Deserowych
Offer valid from 11/10 till 17/10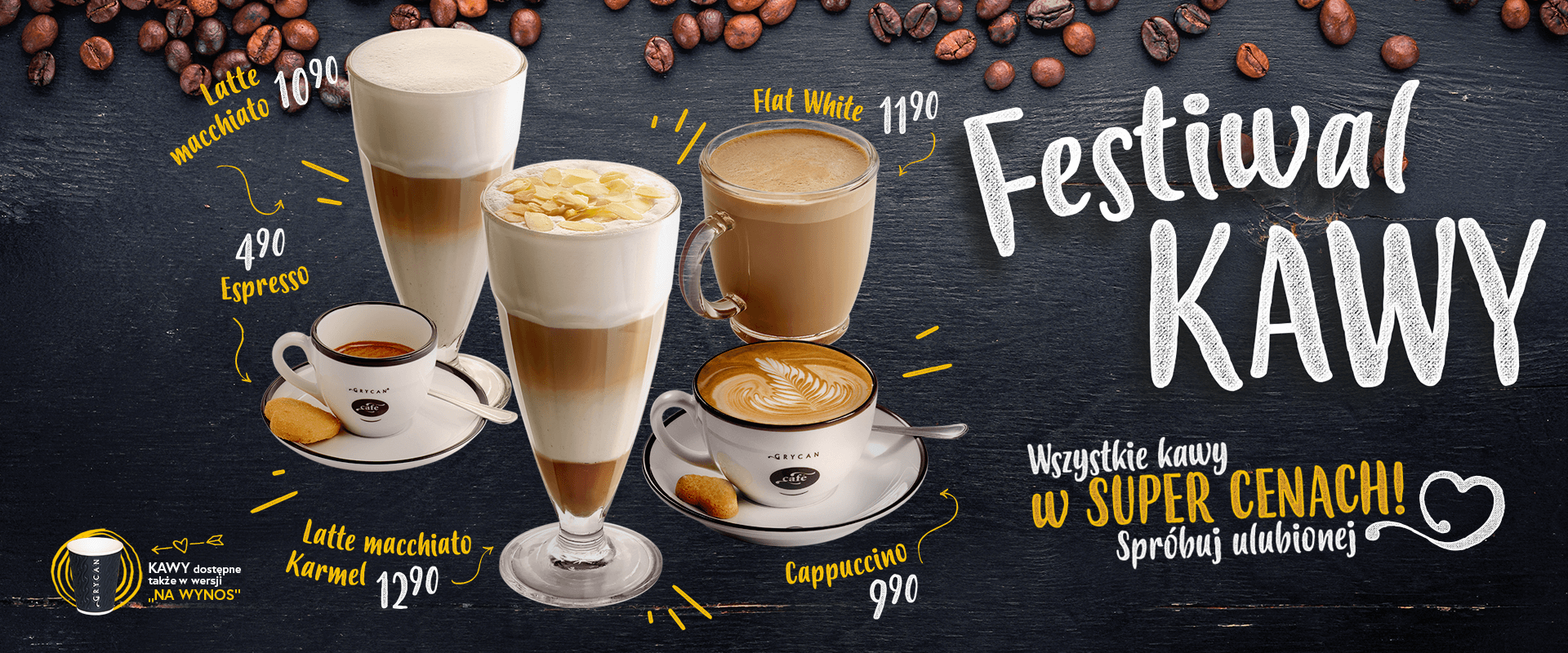 Festiwal Kawy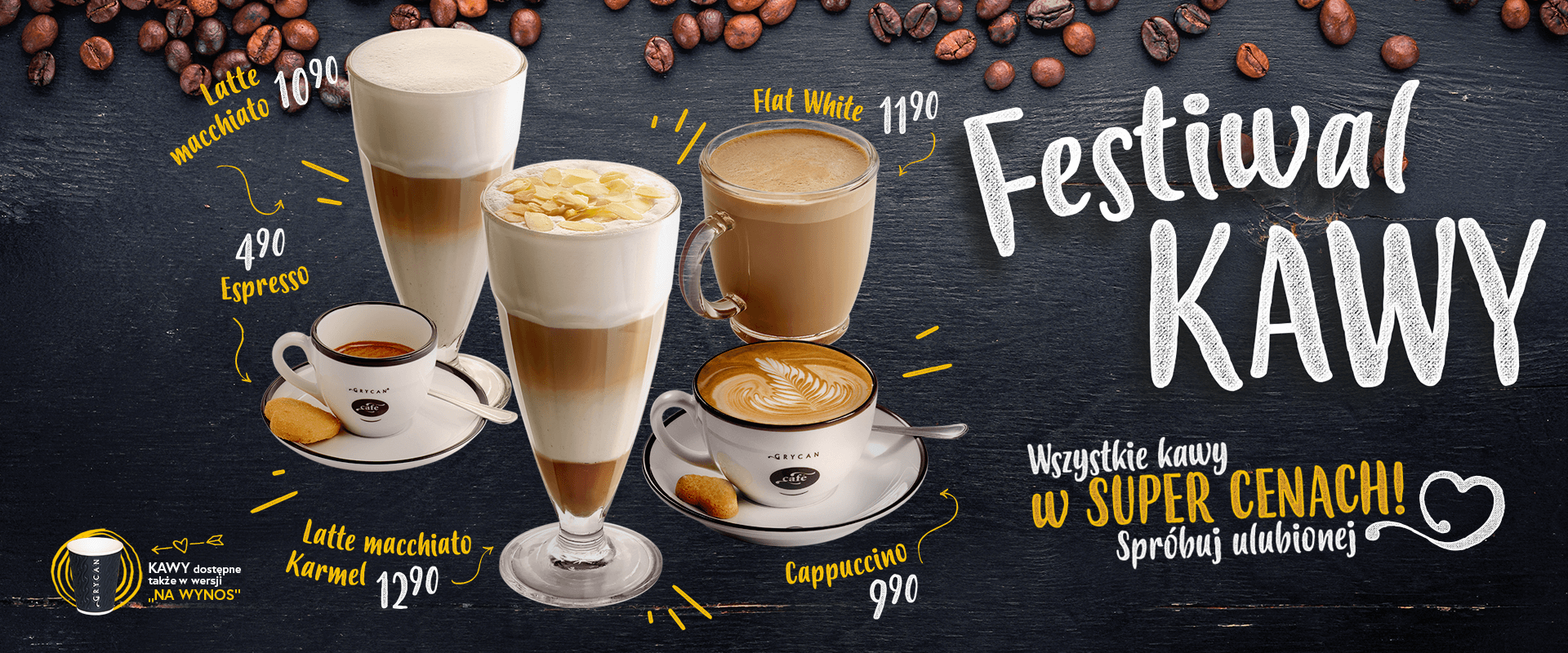 Festiwal Kawy
Offer valid from 13/09 till 19/09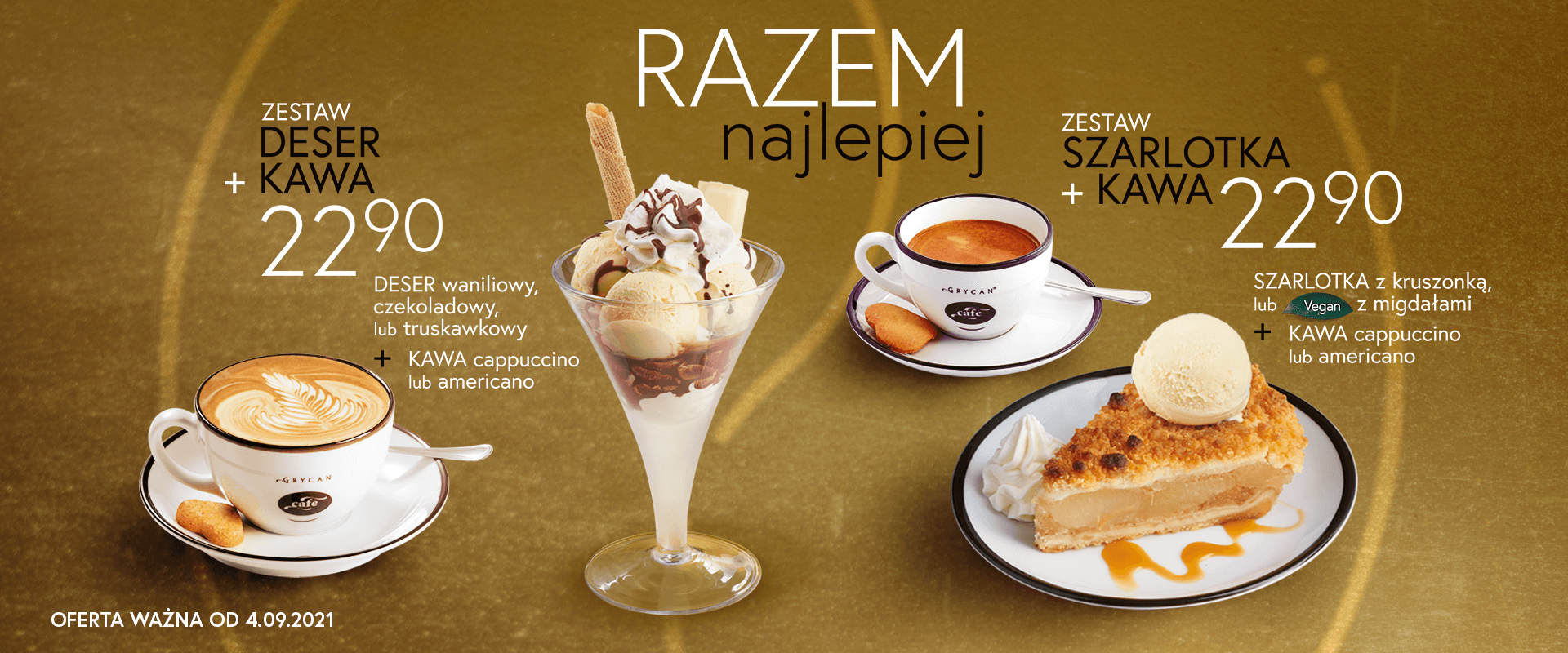 Razem najlepiej
Offer valid from 04/09 until further notice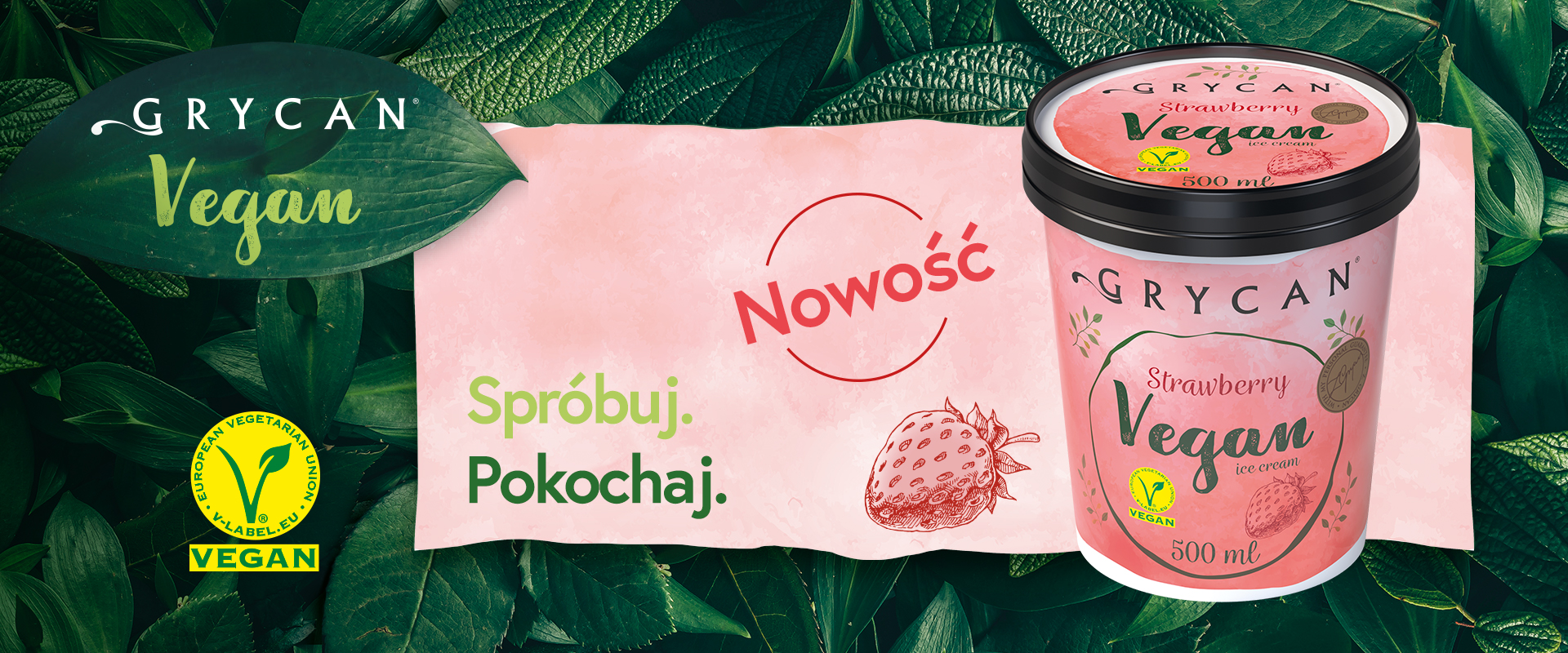 Vegan Strawberry Ice Cream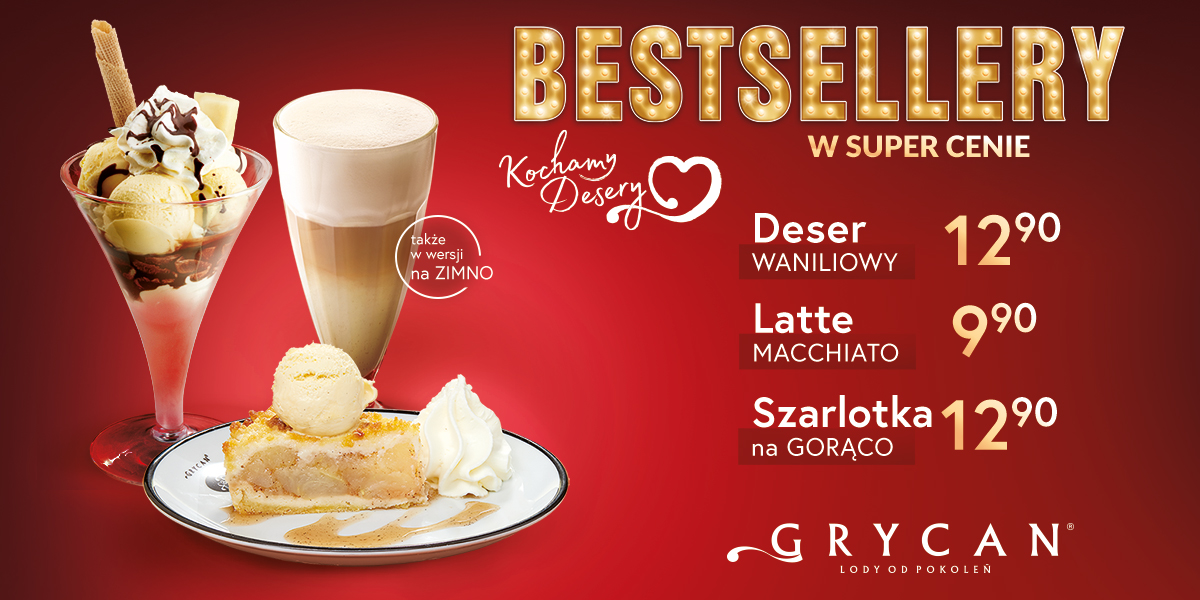 Best sellers at a great price from Grycan!
Crunchy apple pie served with cream ice cream, Latte Macchiato in two versions and the classic Vanilla Dessert are summer bestsellers in Grycan ice cream parlors. They will be available from 10th of August at promotional prices.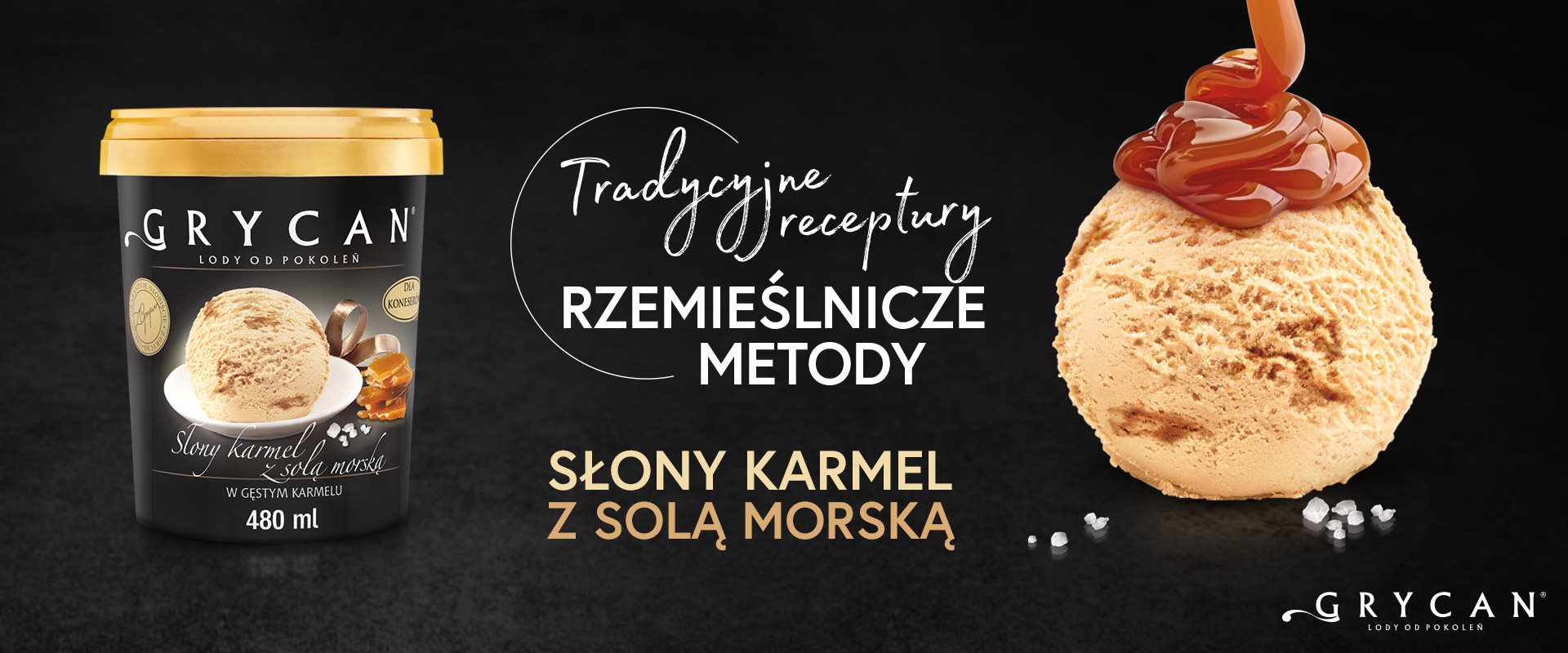 Sea salt caramel
Our new flavour in the range "For Connoisseurs" is a sweet and salty dessert with an intense caramel taste.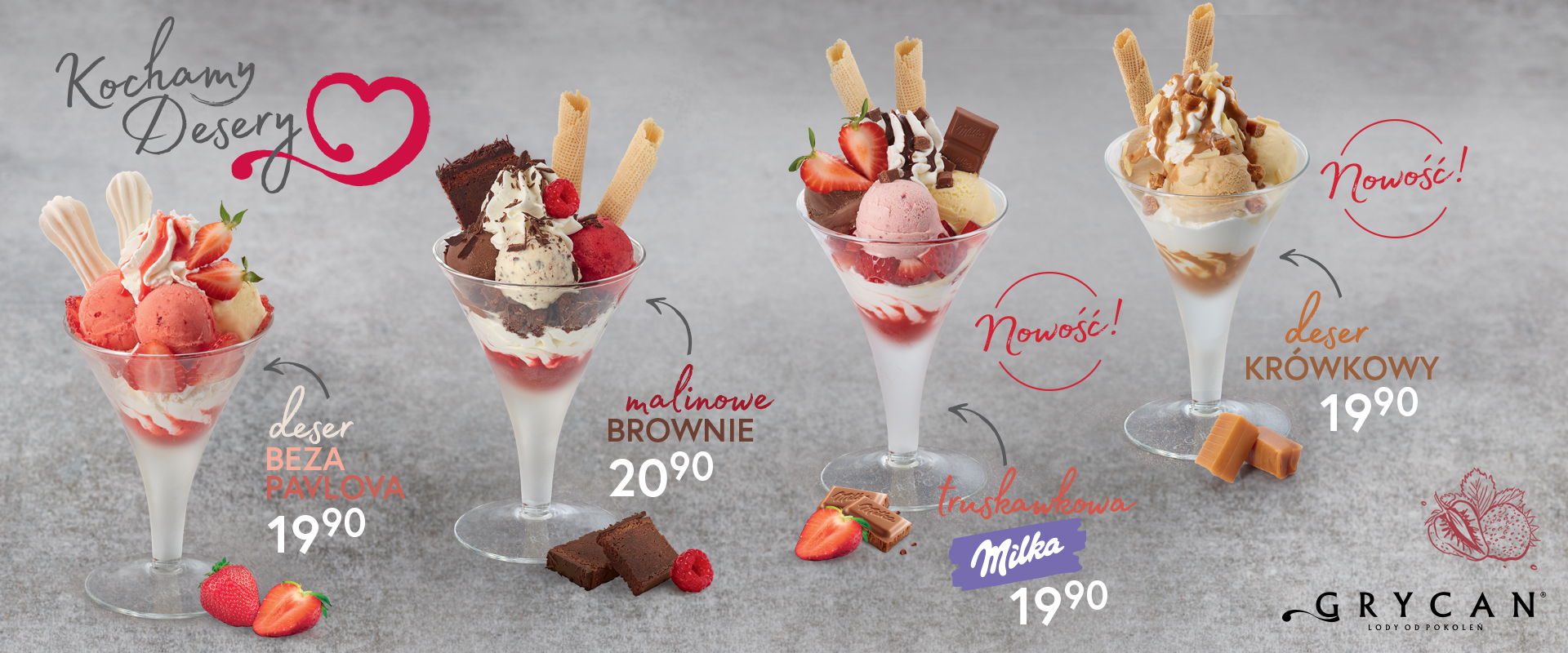 We love Desserts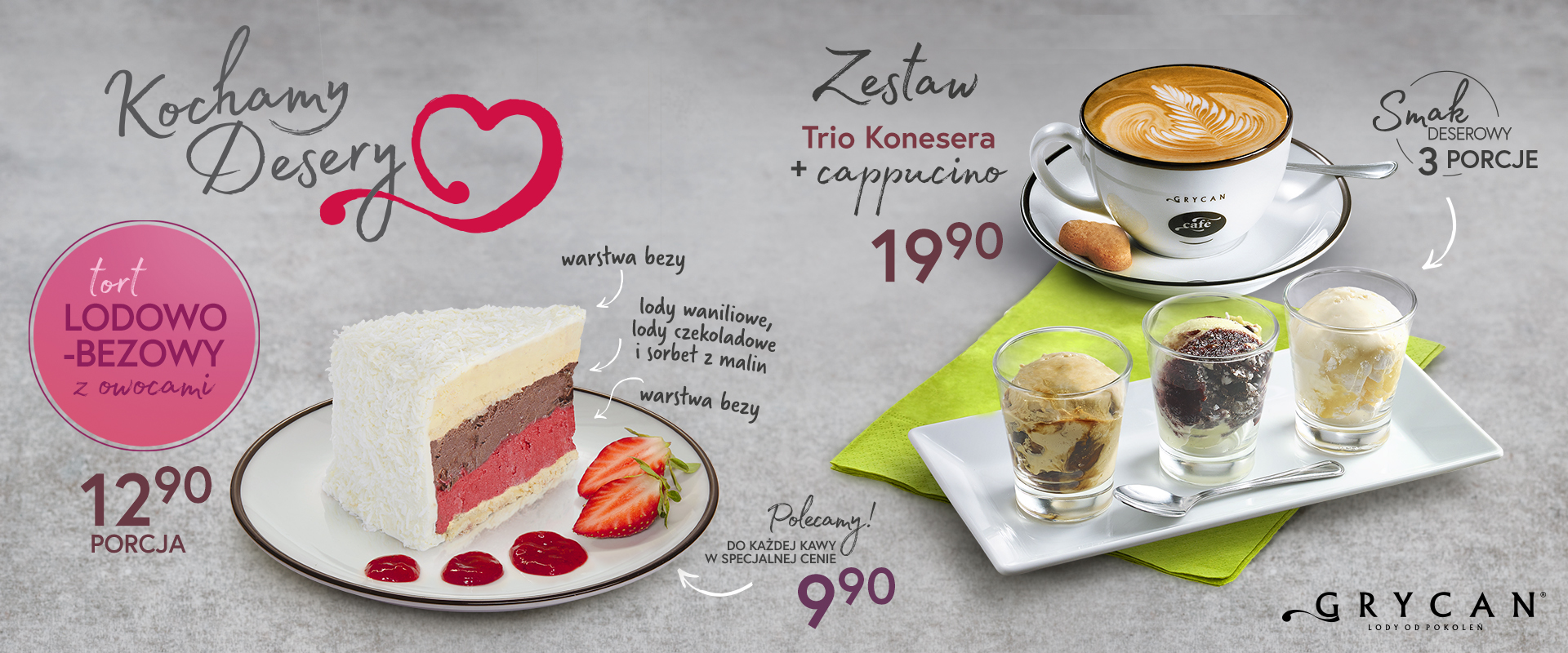 We love Desserts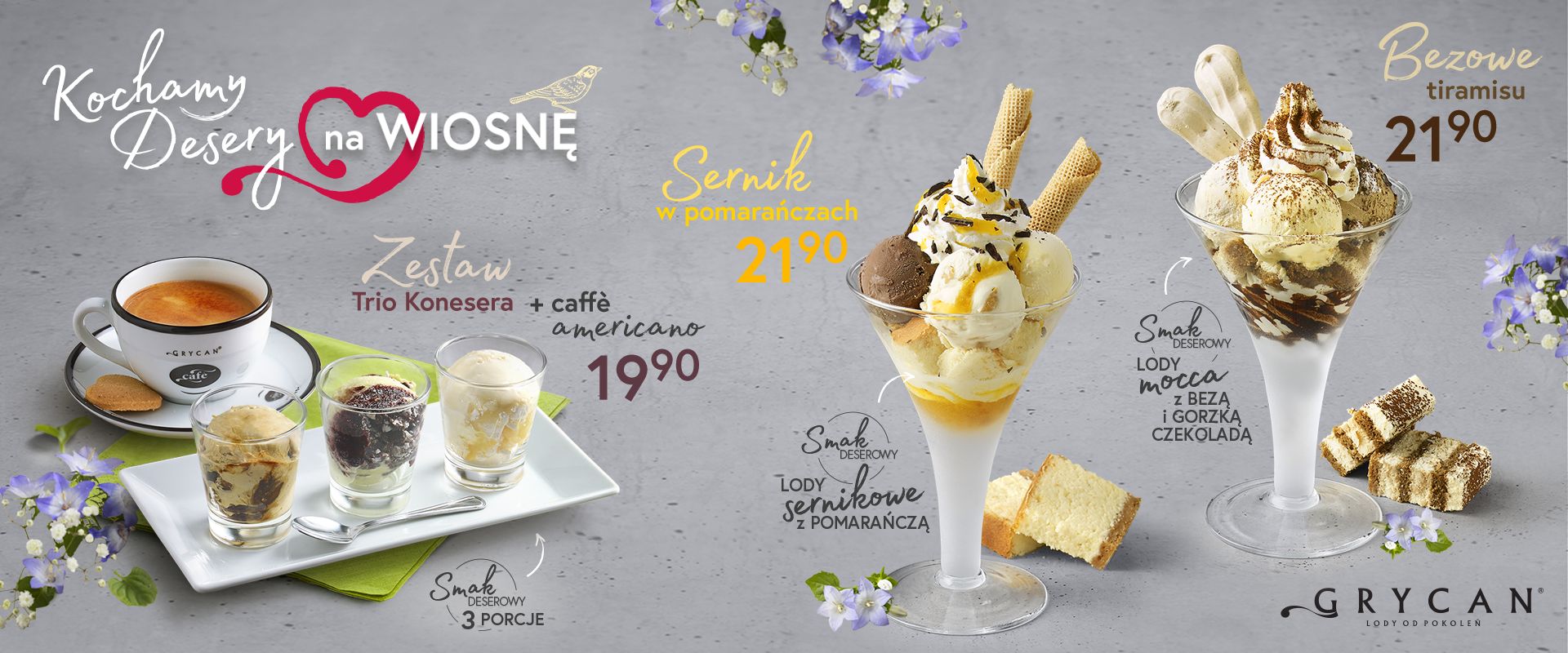 We Love Desserts in Spring
With the first rays of sunshine, new products have appeared as part of our "We Love Desserts in Spring" line-up. Our Orange Cheesecake, Meringue Tiramisu and the Connoisseur's Trio Set are desserts which you simply can't resist! The Orange Cheesecake Dessert is a combination of our Orange Cheesecake Dessert Flavour, vanilla and chocolate ice cream with chunks of traditional cheesecake as well as fluffy whipped cream and home-made orange preserve. The Meringue Tiramisu Dessert is composed of the Mocca with Meringue and Dark Chocolate Dessert Flavour, tiramisu and vanilla ice cream with fully whipped cream and chunks of tiramisu made at our confectionery workshop. The Connoisseur's Trio Set is an elegant tasting set composed of three Dessert Flavours and Caffè Americano. All desserts served at Grycan ice cream parlours are made on request. Their main ingredient is ice cream made in accordance with artisanal methods and traditional recipes, and they are decorated with carefully selected and prepared additions – fruit, hand-made biscuits, meringues and wafer rolls, as well as fruit and chocolate sauces.

Spring delicacies

Bestsellers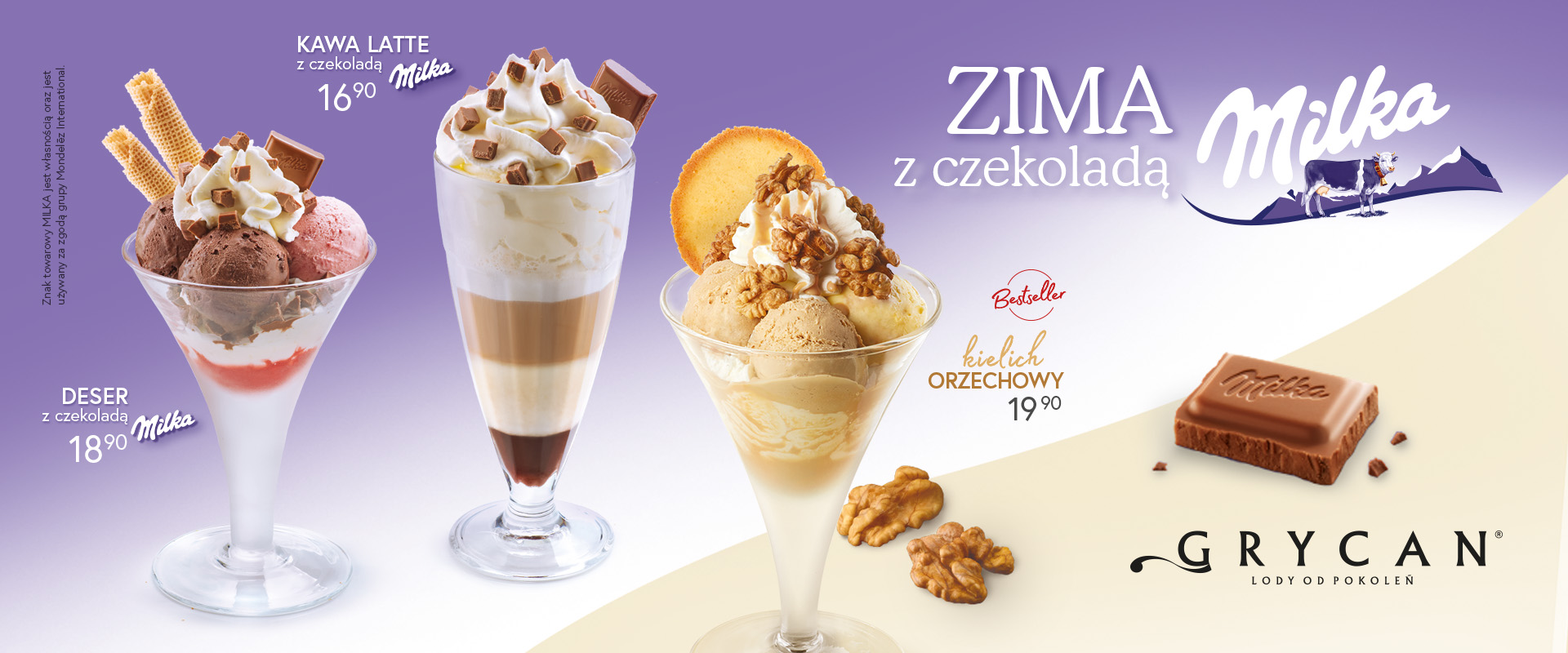 Winter with chocolate
Mmmmm… can you feel the air of Alpine tenderness? Our ice cream parlours now offer delicious treats with Milka chocolate!
Dessert with Milka chocolate – a combination of two scoops of chocolate ice cream, one scoop of strawberry ice cream and Milka chocolate, whipped cream, strawberry sauce and a crispy wafer roll. Price: PLN 18.90
Caffè Latte with Milka chocolate – made with a single shot of espresso, whipped cream, chocolate sauce and chunks of Milka chocolate. Price: PLN 16.90
Hot chocolate with Milka chocolate – thick, fragrant chocolate served hot with whipped cream and chunks of Milka chocolate. Price: PLN 15.90
We invite all lovers of our classic menu to try the Walnut Cup for PLN 19.90.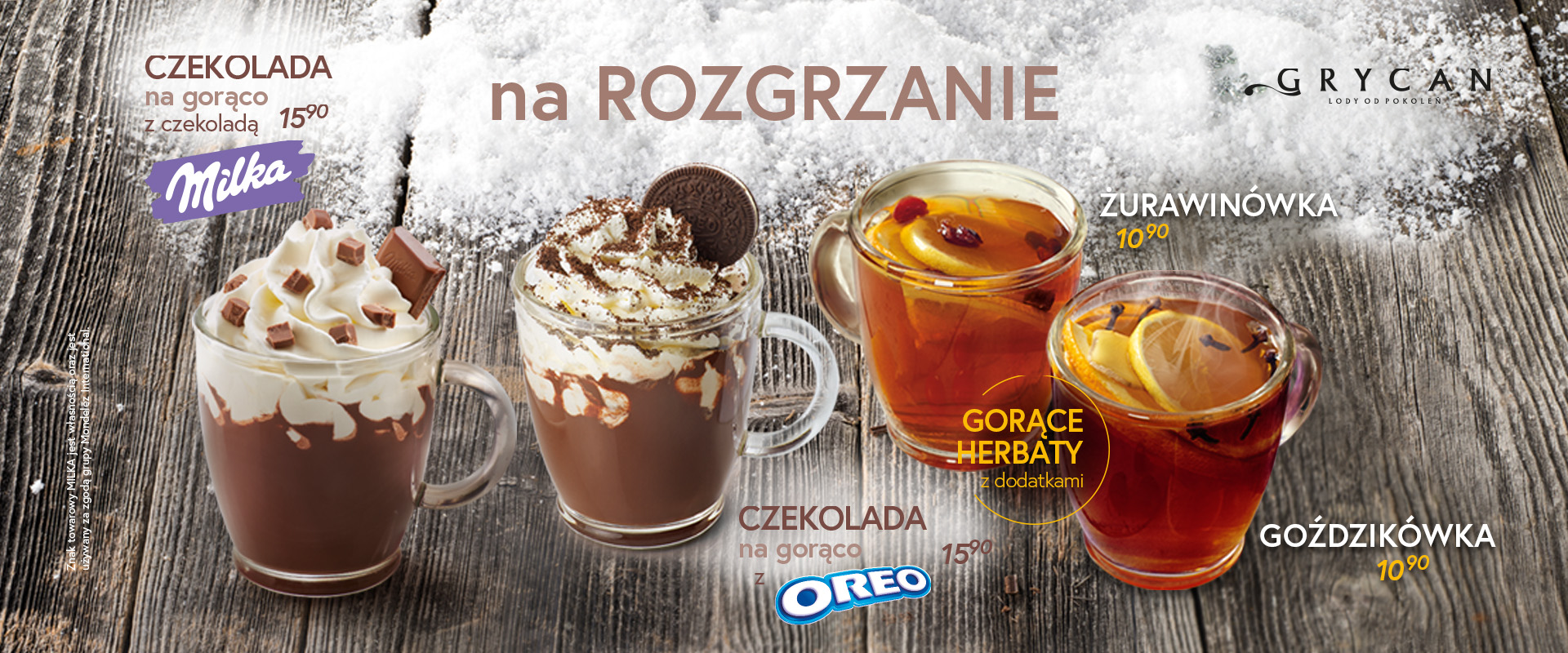 For cold days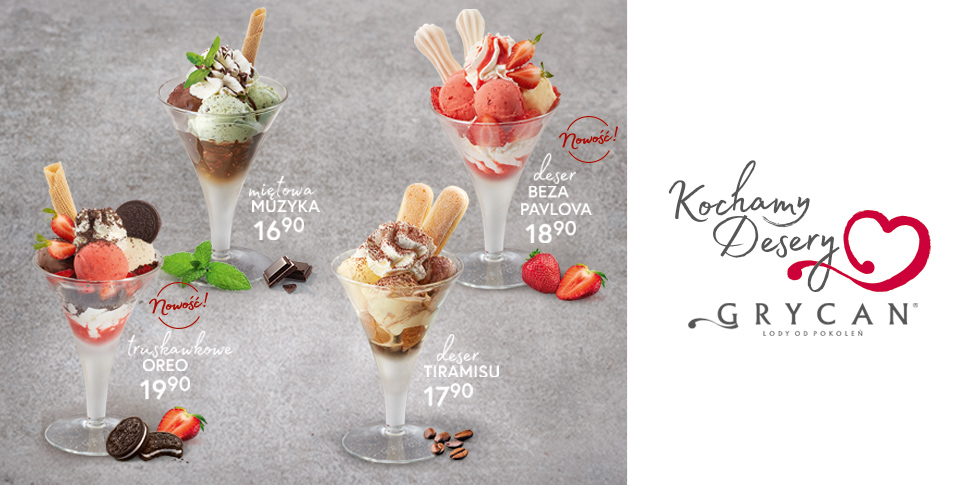 We Love Desserts
All ice cream desserts are made with ice cream and sorbets produced using artisanal methods in accordance with traditional recipes. Moreover, the delicious additions to our ice cream desserts, such as crunchy wafer rolls, buttery "cat biscuits", meringues, whipped cream or sauces, are all made at our ice cream parlours or at our confectionery workshops. Apart from our customers' favourites, the line-up includes two new compositions – the Strawberry Oreo Dessert and the Pavlova Meringue Dessert. The Strawberry Oreo Dessert is a combination of traditional chocolate ice cream with its rich taste of plain chocolate, dairy cream ice cream and the refreshing strawberry sorbet. The dessert is garnished with whipped cream, strawberry sauce, a crunchy wafer roll, fresh strawberries and the cult Oreo biscuits. The Pavlova Meringue Dessert – an elegant combination of sorbet made with sweet Polish strawberries and vanilla ice cream, garnished with whipped cream and strawberry sauce. The dessert is also topped with fresh, succulent strawberries and sweet meringues.