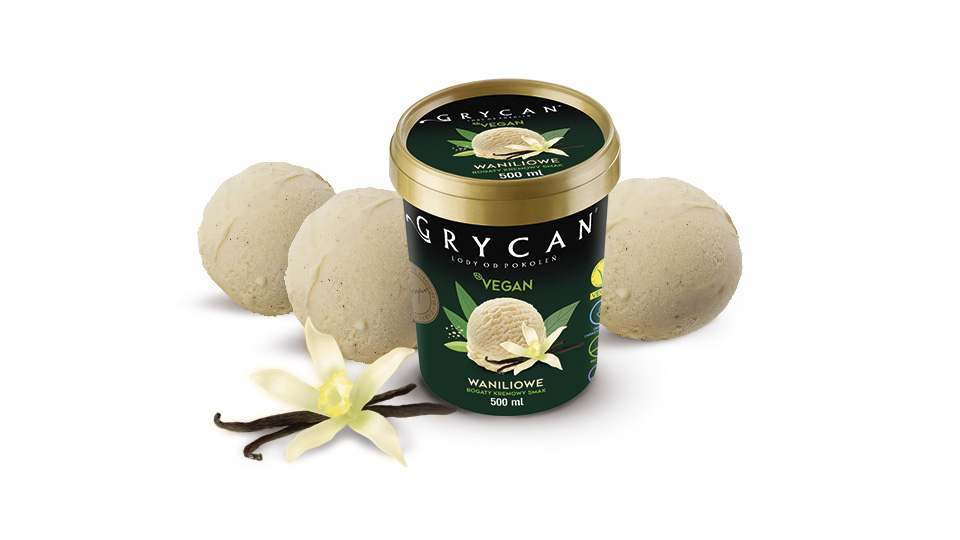 Vegan ice cream
Vanilla Vegan
Plants are rich in flavor and our vegan ice cream are packed with the best that nature has to offer! Plant drinks are Grycan vegan ice cream's base ingredient. Coconut and rice drink make the Vanilla Ice Cream creamy and rich, and high quality, natural additives such as aromatic vanilla are key to its classic flavor for vegans.
Our vegan Vanilla Ice Cream is low in sugar, and the addition of agave syrup, xylitol (birch sugar) and maltitol brings out its natural sweet taste. It is lactose- and gluten-free, therefore it is recommended not only to vegans but also to people suffering from intolerances.

Available in boxes with a capacity of:
500 ml
Available at ice cream parlours




Apple
The best Polish apples in the form of a sorbet made with fresh fruit in accordance with our original recipe.

Revitalising juice
Passion fruit, mango, grapefruit, orange juice and strawberry.
A solid dose of vitamins C, A and K as well as antioxidants, which aid the body's regeneration processes. A perfect choice for active people!