Best sellers at a great price from Grycan!
Crunchy apple pie served with cream ice cream, Latte Macchiato in two versions and classic Vanilla Dessert are summer bestsellers in Grycan ice cream parlors. They will be available from next weekend at promotional prices.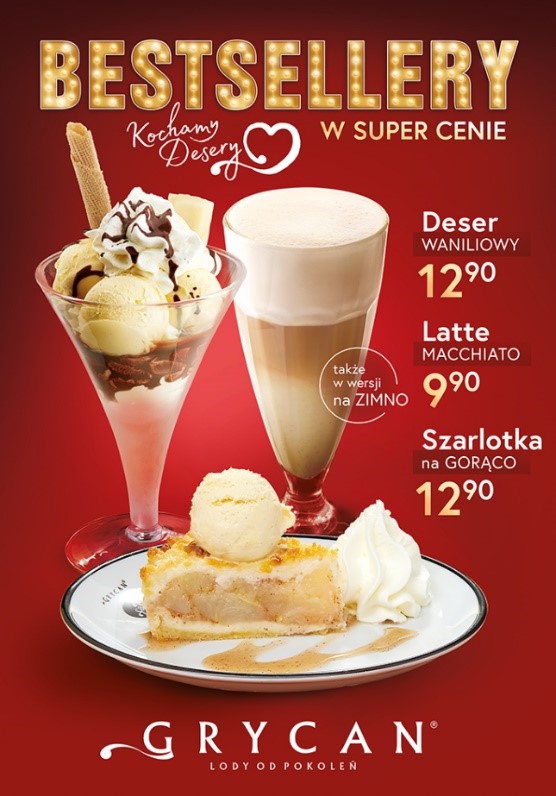 Each of us has our favorite flavors or desserts to which we like to come back. Also our guests, for whom we have traditionally prepared a special offer for the most popular items on our menu – says Małgorzata Grycan, co-owner of the Grycan chain. Apple pie, dessert and aromatic coffee are the perfect combination for nice moments with your loved ones.
The promotional offer includes:
Vanilla Dessert – a composition of vanilla ice cream with whipped cream on the spot, decorated with chocolate coating and a crispy tube baked in your own confectionery workshop for PLN 12.90
Latte Macchiato – aromatic brewed coffee from a unique Italian blend, selected personally by the owners, prepared on the basis of a single espresso with milk and thick, milky foam at the price of 9.90 PLN. Also available in cold version!
Hot apple pie – the absolute bestseller of the Grycan ice cream parlor! A real, homemade apple pie on a shortbread butter cake, served hot with cinnamon sauce, a portion of vanilla ice cream and whipped cream for PLN 12.90
Promotional offer Bestsellers at a great price is available from 10.08 to 27.09.2019 in all Grycan ice cream parlors – Ice Cream for generations.
***
More information about Grycan – Ice Cream for Generations
Press contacts:
Sabina Figarska
Head of Brand Practice
Solski Burson-Marsteller
sfigarska@solskibm.pl