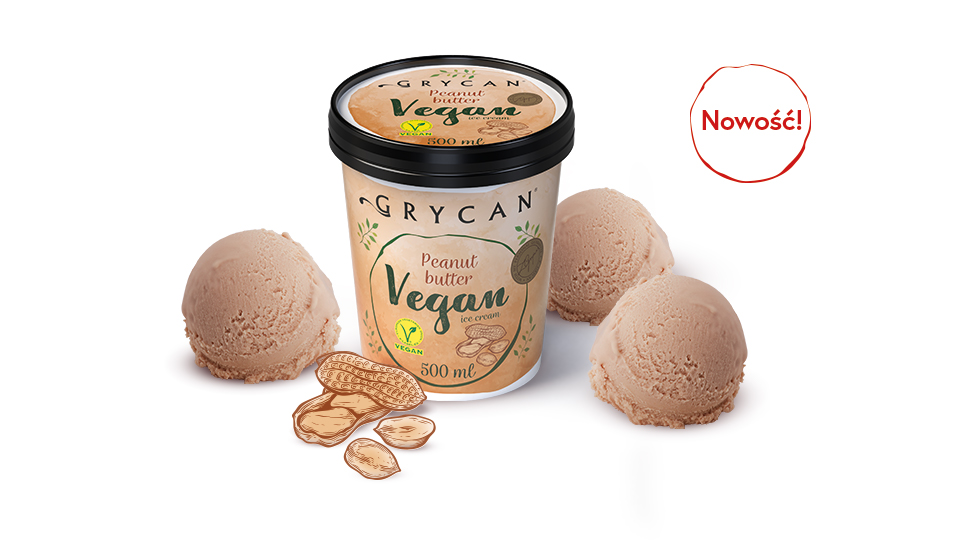 Vegan ice cream
Peanut Butter
Plants are rich in flavor and our vegan ice cream are packed with the best that nature has to offer! Plant drinks are Grycan vegan ice cream's base ingredient. A coconut drink makes the Peanut Butter Ice Cream creamy and rich, and a high content of roasted and ground peanuts is key to its intense flavor.
Our vegan Peanut Butter Ice Cream is low in sugar, and the addition of date syrup and xylitol (birch sugar) brings out its natural sweet taste. It is lactose- and gluten-free, therefore it is recommended not only to vegans but also to people suffering from intolerances.

Available in boxes with a capacity of:
500 ml
Available at ice cream parlours




Grape
Grape sorbet made with carefully selected sweet and ripe fruit.
Refreshing juice
Raspberry, mango, grapefruit and pressed apple juice.
A fruity combination full of antioxidants, vitamin C and B vitamins. Provides an energy boost and gets you going. A lifesaver for those who need instant stimulation.